INTERESTED IN JOINING OUR TEAM?
Oklahoma's Premier Commercial Drywall Experts
SW Drywall, LLC has a proven record of excellence in the commercial construction industry. Whether your project is large or small, we will give it the attention that you deserve.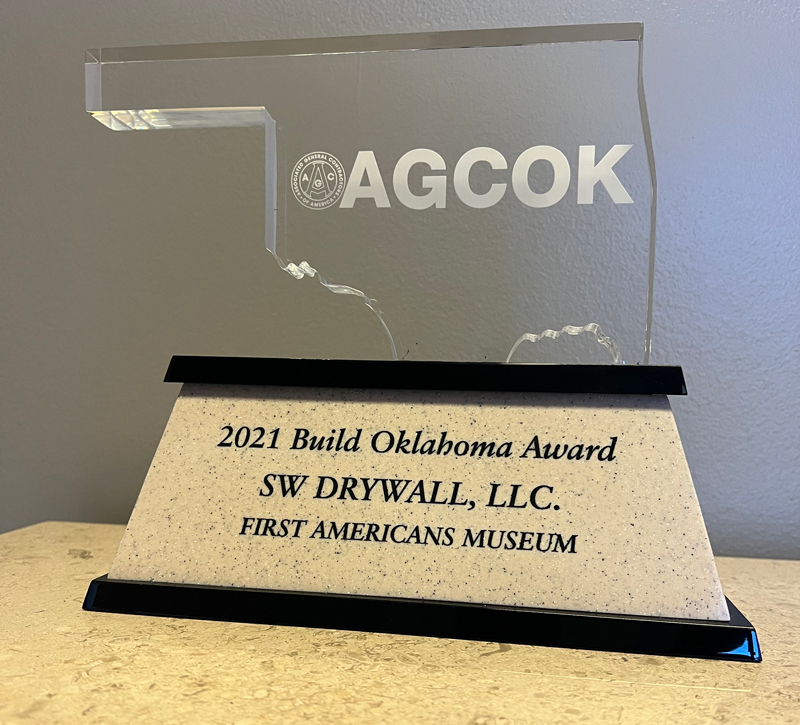 2021 AGCOK BUILDER OF THE YEAR AWARD WINNER
21-22 CONSTRUCTION AWARD WINNERS
Our team of highly-experienced estimators, project managers, production supervisors, and field superintendents will help in every aspect start to finish, ensuring your project can be completed on time and under budget.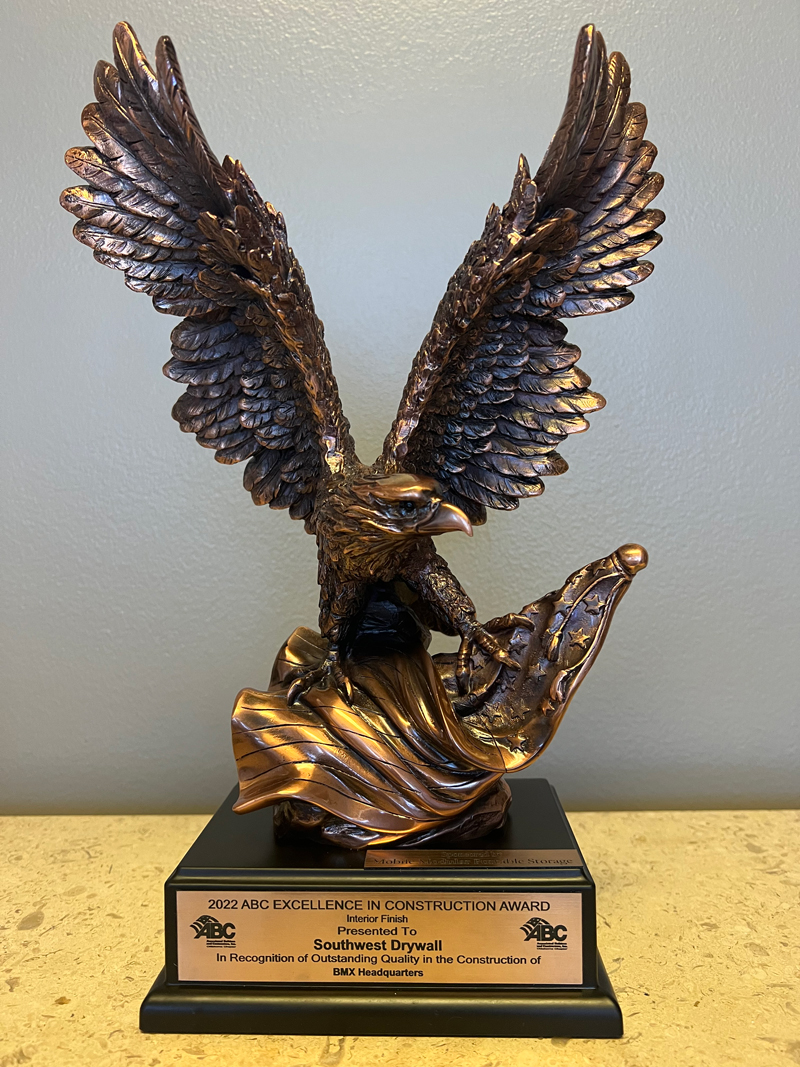 2022 ABCOK EXCELLENCE IN CONSTRUCTION AWARD WINNER
A Team Project Approach
Each and every project is placed in the hands of a senior company manager with dedicated and skilled employees conducting the day-to-day work. All of our individuals are highly-trained and fully experienced and are committed to safety throughout their areas of the worksite. Our office staff has a high level of customer mentality and attention to details, supporting our field management's continuing mission of total quality management in every detail.
Experienced Management
SW Drywall's owners and operators have decades of experience in the industry. They understand the construction industry, its principals, its suppliers, its products and its practices. They are constantly evolving and adapting to new techniques, adding new capabilities to support the constant availability of new products and the ever-stricter requirements in the industry. They have what it takes to succeed in a competitive, construction environment.
Commitment to Safety
Safety for all of our employees is a top priority at SW Drywall. We are committed to achieving "zero injuries" and our history proves this out. Under the leadership of our dedicated safety director, we maintain a safe job environment as part of a normal day's work. Training for each employee starts on day one and continuous education and training is provided in the areas needed for all SW Drywall team members.
Highest in Quality
SW Drywall is different because its people are different. They are a cut above the rest, good at what they do and constantly improving and upgrading in every way. Our team works tirelessly to make sure you—our customers—are not just satisfied, but pleased with the work we perform. You can see it on our faces, in our actions, and by our attitudes. Our door is always open for feedback, which we view as constructive criticism on how we can constantly improve. And we believe it shows. You can see it in our history.
Financial Integrity
SW Drywall exercises the highest level of integrity in reporting all financial data and maintaining compliance with all statutes and authorities in the construction industry. It exercises fiscal integrity in its business dealings and maintains a no-tolerance policy when it comes to the wrongdoing of any kind. By maintaining an environment of strict internal controls, and effective policies and procedures, the organization has an ever-improving track record of meeting its obligations—doing what it says it will do.

"
Southwest Drywall took on one of our biggest projects. We are highly satisfied with the work their entire crew did for us. From start to finish, the experience was professional and top tier. We will be using Southwest Drywall from now on.
"
Oklahoma's Premier Commercial Drywall Experts
Need Experience? We have it!
Our owners and operators have well over 100 years' collective experience in Drywall, Metal Framing, EIFS, Insulation, Acoustical Ceilings, Wall Protection, Finishing/Painting, and many commercial interior specialty products.
Whether it is a school, hospital, business, municipality, or entertainment venue—SW Drywall can help.
CONSTRUCTION | SAFETY | FINANCE





Get In touch below for all questions or to get started on your project.